Warrior Identity Information
Your Warrior Username is the first part of your University e-mail address, up to the "@" symbol. (ie: for JBond@csustan.edu, the Warrior Username is "JBOND").
Your Password is initially set at the "Initial" Sign In page that you received from Admissions, or you can reset your Password.
Technical Support
---
System Unavailable During These Times
Thursdays from 8 p.m. to Midnight
MAP is a set of tools, located within myCSUSTAN, designed
to help guide your path to graduation.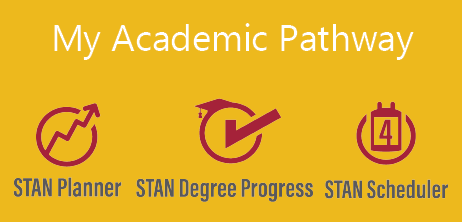 Learn more at the My Academic Pathway website.
Secure your Warrior Identity!
Your Warrior identity provides access to many of your applications, not just MyCSUSTAN.
Before entering your Warrior Username and Password, verify that the URL for this page begins with //my.csustan.edu
Don't leave your workstation unattended; whenever possible, use a password protected screen saver or "Lock" your workstation
When you're done, don't forgot to logout or close your browser completely.
What is myCSUSTAN?
MyCSUSTAN provides convenient, reliable, and secure access to information and self-service transactions for students, faculty, and staff.
Students are able to register for classes, declare their intent to enroll, check their financial aid status, check their grades, and check their account balances.
Faculty & Staff can access class rosters, online grades, and more...